Motorcycle Information Center
Enjoy a bit of History with a touch of modern hospitality at the Skyline Village Inn featuring Lodging, Accommodations, Dining and great wine and beer selection on the Blue Ridge Parkway, near Spruce Pine and Little Switzerland, NC. The hotel has one of the most beautiful views in the North Carolina mountains. We are midway between Boone and Asheville areas making this an ideal spot from which to visit and roam the mountains. Close to hiking for Mt Mitchell, Linville Gorge Wilderness Area, Roan Mt and Grandfather Mountain. The Skyline Village Inn today consists of a 12,000 square foot Inn with 16 guest rooms all with hand made wood paneling. Also we have a guest-only restaurant with great food: Delicious hamburgers, mouth watering Ribeye Steaks with some delicious vegetarian selections as well. We offer Group Rates to touring Bikers. Motorcycle groups are some of our best customers. Once they visit the Skyline and experience our hospitality, the great view, the clean rustic rooms, the balcony and the dining they are hooked. Not only are we located on the Parkway, we are in close proximity to the popular Murder Mountain Loop and Diamondback motorcycle rides.  The "Murder Mountain Loop Ride" web site starts and ends at our driveway. We are located on the "Diamondback" motorcycle and sports car route. Yes our parking lot and driveway empty into the Diamondback. You can not get here without riding on it. These are just some of the reasons you need to visit to check out the excellent area  motorcycling opportunities.
Partnership
Skyline Village Inn has teamed up with Marketing Blue Ridge and its rides to offer a motorcycle hub information center where riders can stop by, get local information, pickup souvenirs or t-shirts, find the locals pub, closest hotel for weekend stay and more. So when in town please visit our local ride sponsors and let them know where you found them.
Hours of Operation
Skyline Village Inn
12255 N Carolina 226A, Marion, NC 28752
(828) 765-9394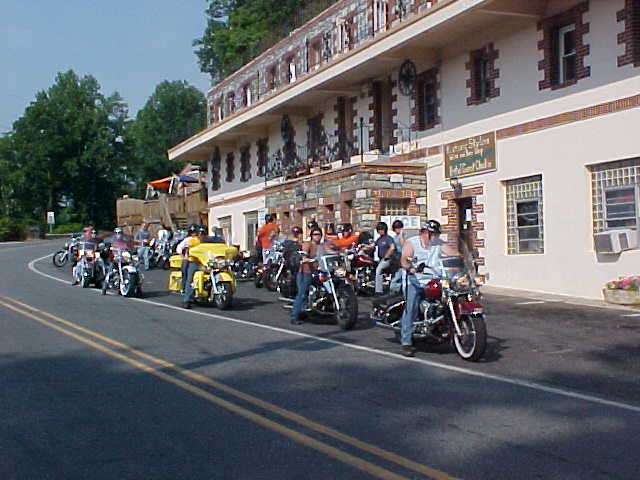 Sat 9-1