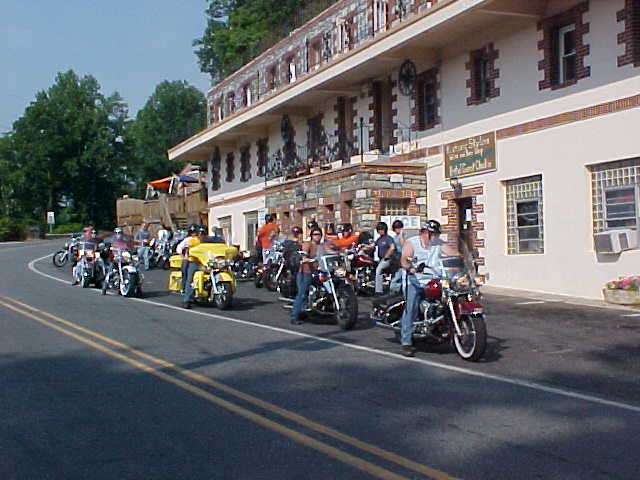 Most of this loop is in North Carolina.  We will start and finish this ride at the Skyline Village Inn, located on NC 226A, right off the Blue Ridge Parkway at Milepost 331.  Take in the view, breathe, and get ready to ride.
The first 13 miles of this ride heads south on the famed Blue Ridge Parkway.  In this short distance you will encounter 3 overlooks with awesome long range views and 2 fun tunnels.
You will also intersect with another great ride known as "The Diamondback", a ride true to its name.  You might want to check out this ride tomorrow as it is worth an overnight stay.
This section of the Parkway has sweeping turns, a lot of shade, and great views even between the overlooks.  Enjoy the easy cruise and take it all in.  At Crabtree Meadows, you might consider taking a few minutes to check out the beautiful Crabtree Falls.
You will exit the Parkway and go north on NC 80 where you can enjoy some tight curves as you descend down from the Parkway.  Go easy on the throttle while you ride and smile.
At the stop sign in Micaville, you are facing the historic Micaville Country Store.  Turn right here and right again in about 2/10 of a mile onto 19E heading toward Spruce Pine.  In about a mile, when NC 80N turns left, follow it across the creek and head toward Kona.  At this point you have used about 1 hour of casual drive time.
Kona is famous for being the hometown where the first ever woman was hanged in North Carolina.  It provides the story behind the "murder" part of this ride's name.
NC 80 will wind through several small towns and provide that peaceful "country road" experience.  Go left when NC 80 intersects 226A.  You will be entering Loafer's Glory on the banks of the Toe River.  Here you can get some good food at fair prices at the famous Bonnie and Clyde's drive-in.
226A turns into a roller coaster, tree-lined fun highway after leaving Loafer's Glory.  This is a very scenic part of the Pisgah National Forest.
In Red Hill, you will find Sam's Red Hill grocery, which is open 365 days a year.  You can always count on being able to get some gas and a good sandwich.
At the Tennessee border, NC 226A becomes TN 107.  Here you will enter the Cherokee National Forest.  Twisting roads with heavy woods will shortly turn into straight-aways with open pastureland.  Turn right at the junction of 173E.
When 173E intersects with 19E, you will make another right turn.  This section of 19E is motorcycle friendly with great passing lanes, offering an easy climb toward Roan Mountain.  At this point you have used about 2 hours of casual drive time.
As you enter the town of Roan Mountain, turn right on TN 143 and start your ascent up Roan Mountain.  Shortly you will enter Roan Mountain State Park and be at the visitor center.  You may want to visit the historic iron ore mine or go a little further into the park to visit the turn-of-the-century working Miller homestead.
As you cruise through this shaded park you will notice it just invites you to stop, rest, and enjoy.  There is a public pool right by the road that may be just the thing to cool off.  Think about it!
As you leave the park you will pass by Jack's Grocery which offers the last gas before Carver's Gap at the crest of the mountain.  Top off if you need to and continue your climb up Roan Mountain.  Go easy at first and get the rhythm of the road.  You will smile as you twist and turn all the way to the top.  There are plenty of overlooks with amazing views, especially to the west.
Carver's Gap is a great place to pause and savor the climb you just made to 5,512 ft elevation.  Breathe in the good energy and enjoy the breathtaking views.  You can take a short hike on the Appalachian Trail to even better views or check out the world's largest natural Rhododendron garden.
After you have had your fill of great air, it's time to start your descent down the North Carolina side of the mountain.  You will cross into North Carolina and TN 143 becomes NC 261.  You will appreciate the design of this road as you descend through the well-banked curves and cruise down through beautiful Roan Valley.
At the stop signs, go straight on 226S through Bakersville which offers plenty of choices for gas.  In about 10 miles turn left onto 19E toward Spruce Pine.  Then turn right on 226A toward the Blue Ridge Parkway.  If you go left here you will enter historic downtown Spruce Pine.
You are now on business alley and about 5 miles from finishing the ride.  If you need any supplies this is the stretch.  Continuing on 226A, the museum of North Carolina minerals will be on your right.  I would check this out before leaving the area.  Continue under the Blue Ridge Parkway.  226S splits off to the left, but you should stay straight on 226A.  You can now see the Skyline Village Inn.
Pull in and take in the great view.  What a great location to end a good ride.  Treat yourself to a drink and a good meal all offered at the Skyline Village Inn.
---
Mile by Mile Directions
Mile 0 :: Start at Skyline Village Inn.  Turn left onto 226W out of the parking lot
Mile .1 :: Go under the Blue Ridge Parkway and turn right onto the Parkway.  On the Parkway, head south (right).
Mile 2.6 :: Enter Little Switzerland tunnel
Mile 3.1 :: Intersect 226A on left
Mile 5.9 :: Enter Wild Acres tunnel
Mile 6.2 :: Deer Lick Gap overlook
Mile 8.1 :: Three Knobs overlook
Mile 8.3 :: Enter Crabtree Meadows Park (Crabtree Falls)
Mile 11.4 :: Black Mountain overlook
Mile 13.3 :: Exit Blue Ridge Parkway to the left at intersection of BRP/NC 80 and turn left onto NC 80
Mile 15.8 :: Black Mountain state campground
Mile 27.3 :: Turn right at the stop sign in Micaville
Mile 27.6 :: Turn right at intersection of NC 80 and 19E toward Spruce Pine
Mile 28.8 :: Turn left on 80N when it separates from 19E
Mile 39.3 :: Turn left at the intersection of NC 80/226A through Loafer's Glory
Mile 55.3 :: Cross the Tennessee border.  NC 226 turns into TN 107W.
Mile 59.8 :: Turn right onto 173E
Mile 66.3 :: Turn right onto 19E at the intersection of 173E/19E
Mile 74.1 :: Turn right onto TN 143
Mile 75.9 :: Roan Mountain State Park visitor center, historic iron ore mine, and public swimming pool
Mile 86.8 :: Carver's Gap, incredible views, Appalachian Trail, and Rhododendron garden
Mile 99.1 :: Go straight at the stop sign in Bakersville (226S)
Mile 109.1 :: Turn left at intersection of 226S/19E
Mile 109.8 :: Turn right on 226S when it separates from 19E
Mile 114.6 :: Go under the Blue Ridge Parkway.  When 226S turns left, stay straight on 226A
Mile 114.7 :: End at Skyline Village Inn